It is not easy to find good advertising sites that won't cost you a fortune. Small businesses and those who are working as an independent contractor do not have an advertising budget like the corporations. It is important to advertise your services. You can use ad submission sites like this one: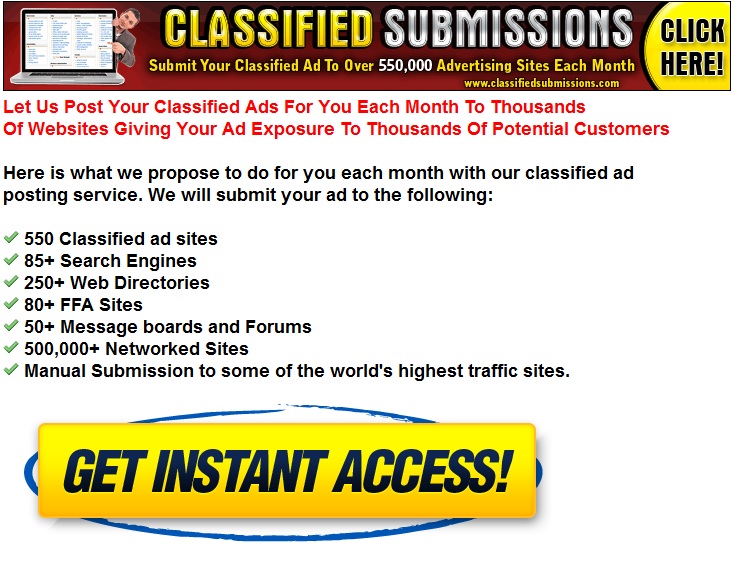 Other sites include:
This is not an inclusive list. These sites I use, trust and frequent for my searches as well as classifieds for household items, clothes, jewelry, animals, and to post my business ads.
As I explore and give the others a try, I will keep you posted.
If you have a trusted resource for free advertising, one that won't fill your email inbox with junk email, then let me know. I will be happy to post it here and share your website as a referral. You can use my contact page to reach me.
Happy classified advertising.
Anyone operating a small business whether it is from your home or another office requires marketing skills and tools. There are many suggestions and as many if not more tools that can help you with creating a marketing advantage.
Website Magazine is one source of marketing information, ideas, and suggested tools.
Today's article offers a few marketing tools to help you with gaining an advantage in not only marketing your business, but if you are a writer, another way to create relevant content. Research is key to any marketing or writing plan.
Click here to read 10 Apps to Make You a Better Content Marketer
Please let me know what you think of this article, and if you have a favorite tool you like using. I look forward to hearing from you.
A business is nothing without its customers. Customers, however, might be a little difficult to attract. Potential patrons may have scores of other shops and businesses they could spend their money on. Therefore, it is up to the business to take a few extra steps to draw in those much needed customers in Utah. Here are six extremely helpful means of achieving just such a goal.
Be As Personable As Possible
Basically, you do want to take time out to get to know your customers. This way, they become frequent customers. More importantly, they will speak highly of your business and their recommendations will aid in drawing more customers to your establishment. Consider implementing some sort of customer feedback program.
Offer Great Deals and Discounts
Lower costs are always appealing. When special offers, deals and discounts are offered, the eyes of potential customers will be captured. Once they have entered into the store to take advantage of the deals and discounts, they may be suitably impressed to become regular patrons. The 80/20 rule is often cited when it comes to discussions about business success. This rule means 80% of your sales comes from 20% of your customers. Offering special deals might help you boost those much needed sale numbers. Offer special deals over social media and text to get new customers.
Allow Your Customers to Know You Are There to Help Them
You do not want to just make a sale for the bucks. You also want to convey that you are in business to help people who walk into your establishment. Once this sentiment is conveyed, customers might end up becoming very loyal to your business.
Improve the Look of the Exterior of the Business
No one is going to be in much of a rush to enter into a business if the exterior is lacking. Simply calling a commercial window cleaning service might be more than enough to make the exterior inviting. Commercial cleaning service professionals can help a business much more than you would initially think. A welcoming store has the potential to be very successful. Some may even wish to go the next step which would be to redesign it or decorate it. So be it! This might be a very helpful tactic as well.
Be Original and Specific
Boring, generic advertising campaigns may be able to effectively convey what product or service your business deals in, these campaigns are not exactly very captivating. By getting across what it is that makes your business special, you just might draw in more customers. If you're a software business, find your target niche and work to attract them over social media and through SEO. Target your marketing campaigns at specific markets.
Never Be Shy To Flaunt Your Positive Points
As the saying goes, it is never bragging when what you are saying is true. If there is something very special about your business, you definitely want to make sure the world knows about it.
Author Bio:
Hannah Whittenly is a freelance writer from Sacramento, California. A mother of two, Hannah enjoys writing on blogs of all niches. Connect with her on Facebook and Twitter.
My blog has grown, but very slowly. Learning search engine optimization for website development is one skill, while SEO for blogs is another.
As a freelance writer I have developed a few ideas and skills regarding article writing to aid the search engines in finding them. And employing them in a blog is one way to get found. However, it is not an exact science nor fool proof.
Today I went in search of a few insights from other bloggers. Following is the list of places to learn more as I am about to embark.
DIY Themes Has a series of articles on how to SEO your blog. The first article offers 7 very good ideas for ranking high in search engines.
My skills are growing.
This next article discusses how to optimize your blogger post titles. Good stuff here. Help Blogger This one is instructional for those who use BlogSpot. However, it has given me an idea how to optimize my WP blog.
Onward and upward.
Our next article comes to us from Maximize Social Business The author covers some of the techniques I am aware of, with a bit more information, and other tips that are a great idea to utilize. For those not in the know, this is good beginning stuff. Follow the link at the end of the article for the next one in the series.
Well, for today that is enough to keep you busy. Let's see how well this one works in search engine ranking. 🙂 Not my best work, not a good example of following directions either.
I feel these tips are extremely important to help create a successful blog. More important to those who write guest posts, articles for publication sites and networks. These tips will help increase your success of getting found in the jungle of search engines.
Thank you and until next time, have a prosperous day.
Exposing a product or service is a common business challenge, and it is the core reason why most businesses have an online presence. The Internet, however, is not a magic platform that will do the work for you, and if the business does not handle the exposure in the right way, it is possible to influence the perception of that product or service in a negative and even permanent manner.
#5. Develop a brand.
The first goal in exposure should be a brand that is memorable and viewed in a positive light. The brand should integrate with domain names and other online details. It should also be highly focused and provide the potential customer with a clear image of why this product or service is the genuine article.
#4. Build a website.
The website serves as the brand's home. Even if the business does not sell the product or service directly through the website, it is a necessity. The modern, Web-surfing consumer has certain crucial expectations about brand reliability. If a brand or a product does not have a website associated with it, then the business will fight an uphill battle convincing potential customers of the promises it makes.
#3. Target a niche.
The Web is a big place and getting bigger. Do not treat it differently than you would the traditional market. Define the niche for the product or service, and then invest your resources in targeting it. Used effectively, the Internet is a wonderful tool that provides a business with a wide array of inexpensive and cost-free mechanisms with which to identify and target niches.
#2. Use channel-based marketing.
Good shopping, data and product feeds are a powerful and efficient way to get the brand's core message out there. Take full advantage of these opportunities with channels. Think of channels as niches within the core niche. With channel-based marketing, your business can target individual potential customers based on a wide range of factors, including age, gender and income.
#1. Foster relationships.
Perhaps the greatest advantage of the Net is the easy and inexpensive ability to foster relationships with potential clients. On TV, big corporations spend millions of dollars on cartoon characters to accomplish this relationship building. Your business can accomplish it with its brand, products and services through effective use of social networking platforms.
Conclusion
New products should not simply be thrust upon an unsuspecting Internet marketplace and should instead be introduced in a methodical and efficient fashion.
Author Bio
Annabelle is currently a loving and caring mother of two children. She lives outside of Milwaukee, WI and loves cheering for the Bucks and Badgers. She is a blog enthusiast and loves writing, if she is not writing she is cleaning up after her two lovely angels. Annabellesmyth@gmail.com