Introduction
I am not new to the position of virtual assistant nor as an office administrative assistant. I began my business in 2003 as a virtual assistant, utilizing my skills as a bookkeeper, administrative assistant, secretary, and office assistant. Even as a file clerk for the San Diego Employment Development Department, or at the time it was called the unemployment office, nearly 40 years ago. The age of index and punch cards. Funny when I think about it, compared to the skill levels of today's office assistant.
The job title for the person who supports the administrative staff with the various tasks of managing an office will change. There are many tasks which overlap in an office. There are specific skills required, opportunities to diversify and strengthen your particular skill set.
All office skills you have acquired over the years are transferable to becoming a virtual assistant. The expertise is in demand. You may choose to work from your home office or the client's office. I offer both services to my clients.
Getting Started
If you wish to work from home as a virtual assistant you have to invest in proper equipment. A decent computer, a printer, with perhaps a fax, copy and scanning capabilities. A phone, preferably one with a noise cancelling headset. (You can purchase just the headset if your phone has a plug in or you can purchase the phone with headset. Prices vary from $40 to $600. Remember to read the fine print, not all headsets are 100% noise cancelling.)
A good computer is essential, there is a need for speed both with the computer and the internet service you choose. Depending on where you live you may have few options for an internet service. Go low cost and build up. There are many tablet and laptop companies that offer systems at a low cost.
The Virtual Assistant Job Search Begins
Once you are set up with the essentials, it is time to find clients. The virtual assistant jobs vary, from customer service options to clerical. There are many companies on line today offering databases and job leads, many charge a nominal fee, but they are affiliated with the same companies you can join for free. Don't spend the money on these databases.
Books, on line learning resources, and more training than you can imagine is available to help you develop your virtual assistant business. Some cost a great deal while others are free. The basics are simple and there is no need to spend a great deal of money to learn. Especially considering your skill set developed working off line.
Your Task List to Consider:
Virtual Assistant Jobs are available. The following chart shows the search numbers for virtual assistant jobs as reported by Google Trends.
A few Key Points:
Create a budget: expenses for starting your home business and personal expenses. Know your cash flow.
Know where to look: research classifieds, membership sites, shop around.
Know what your specific skills are
Create a resume highlighting not only your skills but how they relate to the job you are applying for.
Research the virtual assistant job market, know your competition
Create a web presence, social media and use a blog or vlog to show off.
Set up your home office with the necessary equipment. Find a quiet place, somewhere you won't get too distracted.
Most important of all: Know your competition. Here is a chart that reflects the most sought after virtual assistants: The Phillipines is the top at 100% search.
Resources
The following websites offer a free and fee paid membership. The process is to set up a profile, bid on various jobs in your specialty. The draw back is many of your competitors are in other countries where they can afford to underbid you. The competition is high. Get a feel for the way others have created their profiles, what the average bid rate is and decide if you can do the job for less.
This is only the beginning to the various jobs available on line as a virtual assistant. Many companies are looking for the following:
Graphic designers
Programmers
Software designers
Writers, bloggers, content marketers,etc
Editors
Photographers
Virtual Administrative Assistants
Personal Assistants
Database developers
CRM specialists
Joomla, Drupal, WordPress, and other platform specialists
The list is endless
Where will your journey take you?
Hang out your shingle: Virtual Assistant for Hire. Contact me today to learn how I will best serve your needs.
Here is the latest addition to Office Wife's services. Brought to you from Bravenet, apps for your website to enhance and increase your productivity, visibility and ease of use.
Enrich your website with powerful apps
Sign Up Today for your FREE Bravenet Account.. enhance your site with braveapps!
Getting started with Bravenet is quick and easy. Put your credit card away and explore the services we have to offer
This past couple of weeks my email has exploded with online backup solutions. It would seem the new buzz word is online backup. I have to ask, is it essential or is it just another expense that businesses do not really need? And by the way, how secure can it be?
What IF's
With the headlines over the last year of hackers stealing information from department stores, online shops, and let us not forget the Heartbleed problem, do you really need online backup?  Or as it is now being called Cloud storage.
I have had this discussion a few times lately:  Everything is hackable.  Security is an illusion.  The only true security is that which you create for yourself.
What if you back up your entire business computer, website, CRM data, to a cloud server and that server crashes?  Or is hacked?  Or goes out of business?  Your system crashes, your host's servers crash?  Or gets hacked?  Then what?
An Alternative
I do use Cloud storage for the ease of working remotely.  I can access it from any computer, makes it easier than carrying a laptop with me.  However, this is not the only source of my data and website backups.
I invested in a USB drive,  my particular one is a 1TB from Seagate.  When I purchased mine they were relatively new to the market.  Now they come in larger terabytes, 5TB external with backup software available to protect your important data.
The smaller versions are easy to cart with you in your laptop case.  Most are a bit larger and created to stand on your desk.  As with all hard drive, computer technology, you do need to take care of them.  However, I would not trade mine for the world.
Essential Practices
Backup of your computer is an essential need.  Both business and personal.  Especially of your data.  The use of an external hard drive makes this practice easy.  The terabyte drives provide software to aid in keeping your data secure.  You can encrypt the drive, or select folders, schedule back up of select files or the entire drive.
Back up your website, save to your terabyte drive.  CPanel offers a way to back up your website or WordPress site and download the file.  With the issues of hacking sites this keeps your important information safe.  If your site is hacked you have a clean backup to reinstall if the need arises.
Use the Schedule and Forget it technology and you will ensure your business and personal information remains safe.  Even with Cloud Storage.
Consider This
Cloud computing is becoming the way of the future.  I am not saying not to utilize it.  What I am saying is do not make it the only source of your information.  Learn how to create security in your life.  Email, websites, computers connected to the internet and intranet are vulnerable to hacking.
Firewalls, antivirus, anti-malware  and spyware programs are essential to securing your website and computer.  For the cost of a yearly subscription fee you remain secure.
Include a password program like LastPass or McAfee's Safekey to save your passwords in, rather than the browser's storage.  These programs offer high security, swear they cannot be hacked, but again, everything is up for the opportunity.  It is what hackers do.  The other benefit to  using LastPass or McAfee's Safekey is the ability to generate encrypted passwords.  They are not easily remembered, but you can rest assured they are secure.  More on this topic later.
Share your insights in the comments.  I look forward to hearing from you.  Don't forget to share this with your followers and lets get together on one of the social networks.
To read more download this white paper published by TradePub.
It is not easy to find good advertising sites that won't cost you a fortune. Small businesses and those who are working as an independent contractor do not have an advertising budget like the corporations. It is important to advertise your services. You can use ad submission sites like this one: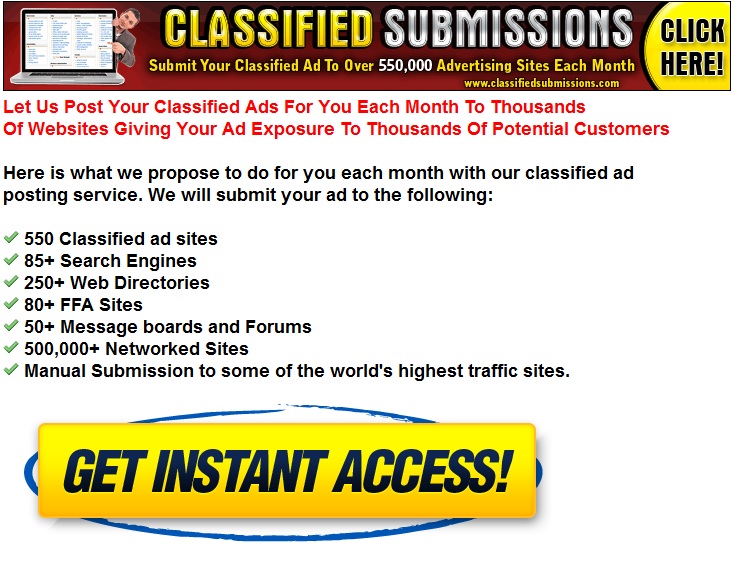 Other sites include:
This is not an inclusive list. These sites I use, trust and frequent for my searches as well as classifieds for household items, clothes, jewelry, animals, and to post my business ads.
As I explore and give the others a try, I will keep you posted.
If you have a trusted resource for free advertising, one that won't fill your email inbox with junk email, then let me know. I will be happy to post it here and share your website as a referral. You can use my contact page to reach me.
Happy classified advertising.
In the search for news and what matters most to you, my reader, I stumbled across more from GoDaddy. They have a blog called The Garage where their writers provide insights, tips, news pertaining to the web industry, and specific ideas you can use.
The article I read today (December 31, 2014) is about using multiple domain names for your business. Specifically the good of this practice.
The basic gist of this article is that your business has to grow or you don't earn a living. Beside product development, your website presence is important. Social media and the web are not going away, actually they are expanding exponentially. Social media sites are popping up on a regular basis all with the hope of becoming number 1 in their industry.
The author of this article, When can multiple domains help your business?, published September 1, 2014 believes that growing your business includes adding multiple domain names.
After reading this article, leave me your comments. What is your take on using multiple domain names for your growing business? Is it a help or a hinderance? Too costly? I am interested in hearing your voice.